Autism Awareness Bracelets
There are many Autism awareness bracelets available for sale. There are some pretty basic bracelets designed with the purpose of raising funds for ASD as well as promoting awareness.



There are the blue bracelets which have been created for both Autistic children and parents.
Over the last few years, more of the Autism awareness bracelets have been designed as jewelry pieces. Prices can range from $2.00 for the rubber bracelets to over $200.00 for some very beautiful Autism jewelry.
This silver finished bracelet is very colorful. It shows the puzzles of ASD and it is relatively inexpensive at $9.99.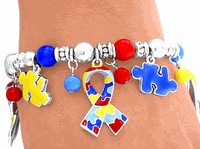 Click here to view this item.

Also priced at $9.99 is this silver finished lobster clasp chain dangling a multicolor ribbon and three charms including a key, a heart-shaped keyhole and a puzzle piece.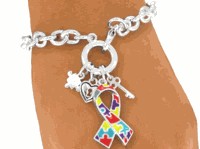 You can purchase these Autism awareness bracelets here. A portion of the sale goes to the Autism Society of America.
Another consideration is to have a medical alert bracelet. They usually can be purchased in 14 Kt, 10 Kt, gold-filled, sterling silver or stainless steel.
Most companies such as American Medical ID do not charge extra for personalized engraving. Most bracelets can have four lines on the back as well as four lines on the front.
Prices will vary for these bracelets depending on the quality you desire. The medical alert bracelets can help identify non-verbal Autistic children so the police and other authority figures who may not know the history of the child, are able to understand and provide the proper assistance.