Autism Jewelry
Autism jewelry is becoming more common in supporting the Autism research.



The puzzle piece that is often used as a symbol of ASD reflects the mystery and complexity of Autism. The different colors and shapes of the crystals represent the diversity of people and families living with this disorder.
Doodle Bug Creations has beautiful Autism awareness bracelets, Autism ribbons and key chains for sale. Doodle Bug donates a portion of their profits from the sale of each bracelet, to the Autism Society of America.
Please click on Doodle Bug's Autism jewelry jewelry to view their wonderful collection. I think they have a wonderful idea with the name bracelet they offer. Besides their Autism jewelry collection, they do offer other custom made creations.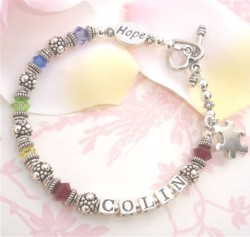 Here are other Autism awareness items.

Blue Autism Bracelet

Autism Awareness Magnet

Autism T-Shirts

Autism Awareness Bracelets